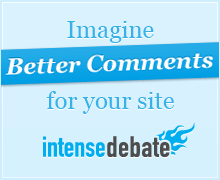 I have installed
Intense Debate
and CommentLuv on my blog! For those who are unfamiliar with CommentLuv,
it is a plug in that rewards readers who comment on your blog by creating a link to their latest blog post at the end of their comment. This creates the much desired backlinks that we bloggers love so much.
I am definitely not an expert on PageRank but I've been doing some research for a while - a really long while. I came across many articles about how leaving a comment using CommentLuv can help you increase your PR by creating backlinks. Again, I am not an expert in any way but I know that backlinks to your blog help your PR so I am all for helping to spread the Luv to other bloggers!
About PageRank:
If you are a blogger, you probably know more about PageRank (PR) than I do. I know that we all want to increase our PR and that it takes a long time and a lot of work to do so. It takes a long time to increase your PR because Google only calculates PageRank every few months and we never know when they are going to re-access our PR. If you want to check to see what your PR is, you can go to the
PageRank checker here
.
Find out how to install CommentLuv plug in on Wordpress, Blogger and Joomla + plus more helpful info after the jump.
So how can Intense Debate and CommentLuv help your PR?
Leaving a comment on a blog that has CommentLuv creates a backlink to your blog - getting backlinks to your blog helps to increase your PR. Here's a little bit of advice though: if you're going to comment on blogs with CommentLuv, be sure to leave a valid comment - not just "hey thanks" or "nice post". Most people with dofollow blogs will moderate their blog comments to prevent spammers and people who are just trying to create a lot of backlinks to their own blog so leave worthwhile feedback when you comment (that's just my two cents and from what I've read on a lot of other blogs, that seems to be the general consensus).
I just found a FANTASTIC post on
Mommy Rantings
with great information about CommentLuv and Intense Debate and the experience that she is having with it. This is a wonderful, informative post so I highly recommend it! She gives you some tips on what to look for when you install CommentLuv on your blog.
How to get CommentLuv on your blog: If you have a Wordpress blog, you install the CommentLuv plugin. f your blog is on Blogger (blogspot), you'll need to register for an account at
Intense Debate
then install the CommentLuv plug in from the Intense Debate site. For detailed instructions on how to do this, check out this really helpful and descriptive post at
Gig Logo
. Joomla users can get great instructions
here on this post
.